Last chance for solutions to reduce your emissions: Post-Combustion Level
Post-combustion offers a wide range of solutions regarding emissions reduction, among them equipment optimization, increasing coil exchange area in a revamp, checking heater tightness, improving heat integration, installing a Air Preheater to improve efficiency, or performing flue gas treatment.
Click here
to find out more about the classification of emissions from fired heaters.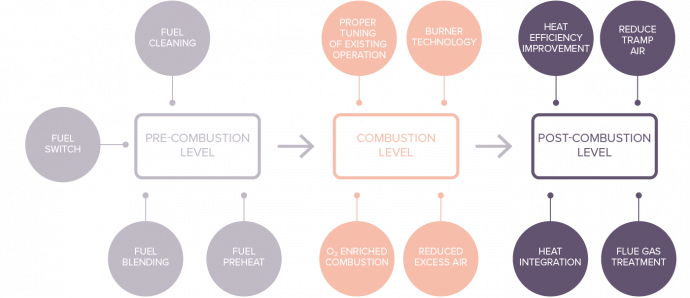 Heat Efficiency Improvement with the installation of an APH
Air Preheater (APH) is a sound way to improve heat efficiency. The principle is to use waste heat of the flue gas in order to preheat combustion air. Consequently, the fuel consumption will be reduced and thus the emissions as well.
Axens Horizon is serving the industry as a world recognized supplier of different types of APH and their accessories for the refining, petrochemical, syngas & hydrogen markets.  To increase the thermal efficiency of the process, a very robust and cost-effective plate heat exchanger has been developed that can be adjusted to every needs. Utilizing Clear Channel Technology, the heat exchanger has a low fouling tendency and can use internal cleaning mechanisms for online and offline cleaning.
By utilizing special coated or polymer based tubes, low stack temperatures (< 90°C / 195°F) are within reach, operating below the Acid Dew Point (ADP).
Heat Integration
Throughout heater performance optimization and revamp studies, we are committed to help our clients improve their units energy efficiency, thus leading to substantial fuel savings together with emissions reduction.
Reduce Tramp Air
With ageing, heaters tend to become prone to tramp air leakages. This air infiltration (through observation and access doors, header boxes for example) leads to increased fuel consumption, which in turn increases pollutant emissions. It is thus key to ensure equipment tightness. It also leads to O2 analyser readings that are not representative of combustion at the burner level, possibly generating firing at too low O2 level locally.
Flue Gas Treatment – Selective Non-Catalytic Reduction (SNCR) for NOx reduction
SNCR is a post-combustion reduction method to convert NOx into N2 and H2O by means of reaction with ammonia (NH3) at high temperature.
SNCR system can achieve a reduction of 25-50% of NOx in the flue gas stream.
Flue Gas Treatment – Selective Catalytic Reduction (SCR) for NOx reduction
SCR is a post-combustion method dedicated to convert NOx into N2 and H2O) by means of reaction with ammonia (NH3) in the presence of catalyst (Vanadium based). In this process, ammonia is injected in the flue gas stream and the ammonia is adsorbed on the SCR catalyst. On the adsorbed ammonia, NOx reacts and gets converted into N2 plus water. The conversion of NOx into N2 constitutes the main reaction.
SCR systems can achieve a reduction of up to 95+% of NOx in the flue gas stream.
Case study – Heat Integration Study for a European CCR Reforming Unit
Our approach to face the client's challenges
Here is one recent Case Study carried out by our RISE™ team who leveraged the different expertise of the Group for this project: from catalyst and tech. services, process evaluation, fired heater revamp, to high efficiency equipment.
This approach was used to tackle the client's strategic objectives; i.e.; reaching a net Zero CO2 emission by 2050 by performing energy savings on the heaters and heat exchangers, and at the same time solving their recurrent operating issues in their unit and securing optimal operation from turndown to design capacity.
Operators need to adapt to market dynamics changes and their ability to swing products slates one-way or another is key. By focusing on maximizing the value of existing assets using a holistic approach, RISE™ approach is particularly interesting to help operators respond to those changing conditions and emerging needs.
RISE™ is partnering with operators early on with a multi-expertise team and delivers tailored solutions, leveraging Axens technologies, products and services. Beyond rebalancing products slates, other topics such as operational optimization, energy efficiency improvement, CO2 reduction, and biofuels production can be addressed by RISE™ when operators are seeking to revamp or retrofit their existing units.
Find out more
.
Our solution
For the exchangers, we have proposed to replace the existing ones with high-efficiency exchangers (Spiral exchanger or Welded plate exchanger). Both options resulted in better performances than the original design.
As for heaters revamping, two options were considered as well:
modification of the convection section considering an optimized tube arrangement and an increased tube extended surface area.
implementation of an Air Preheating (APH) system. This last option showed a better gain in fuel efficiency, while saving fuel gas and reducing CO2 and SOx emissions.
Benefit for the client
This "screening study" showed that by selecting the most optimized solution in terms of energy savings, combining the high efficiency exchangers and the APH, the fuel gas savings could reach 15% and the CO2 emissions could be reduced by 20 000 tons per year; all while achieving the flexibility from turndown to design capacity and eliminating the reliability and safety concerns.
Heurtey Petrochem Solutions would be happy to help you define the best strategy for improving environmental performance of your fired equipment. Don't hesitate to contact us for customized solutions.