In the global context of industry decarbonization, Heurtey Petrochem Solutions helps a wide range of industrial actors to lower the carbon footprint of their furnaces. Part of the portfolio of solutions, Heurtey Petrochem Solutions proposes a unique solution based on Electrical Tubular Heaters.
Get the best of your direct fired heater CO2 free!
Our Solution
Our solution is based process wise and mechanical wise on the direct fired tubular process heater technology. We offer a well-known and proven technology in term of structures, pressure parts, coil supports, and refractory. Burners are replaced by electrical resistances installed on the furnace walls to bring the required heat input to the process fluid flowing into the tubes.
While using CO2 free electricity, the Heurtey Petrochem Solutions Electrical Tubular Heater is the perfect solution to reduce the carbon intensity of your unit.
It is also the perfect complementary equipment of your Bio and Renewable Technology units, ready to operate and to accompany you onto your energy transition road.
While we are recently offering up to date Electrical Tubular Heaters with upscaling enabling to answer to the present demand, Heurtey Petrochem Solutions has references since the late 1990's, with some of them still in operation for the full satisfaction of our clients. So no problem of reliability or confidence, we are back by almost 30 years of experience!
The Advantages
No more burners and related combustion issues, no more convection section, stack and emissions to the atmosphere (CO2, but also NOx, SOx, CO, unburnt HC), a more compact equipment and a reduced plot plan.
The electrical resistances offer a very uniform heat flux profile compared to traditional burners, hence reducing the heat flux peak, allowing decreasing the tube metal temperature and the fluid film temperature.
In addition to this, for specific services, we use independent electric controls in order to be able to tune the heat flux at the required value and at the desired location.
Heurtey Petrochem Solutions technology of Electrical Tubular Heater is therefore well adapted to the most severe services : vaporizing, coke tendency, low fluid film temperature, high temperature, and of course kinetic reaction.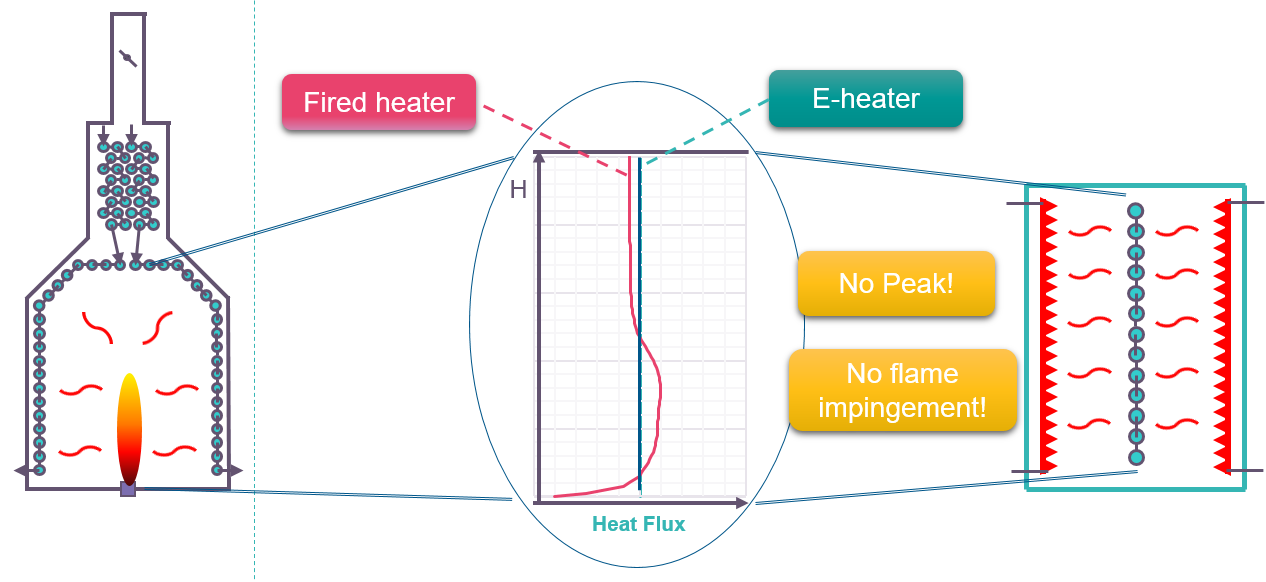 You get benefit of an almost possible 0 to 100% turndown and range of heat release, allowing unprecedented range of operation through your heater.
Each Heurtey Petrochem Solutions Electrical Tubular Heater will be tailor made to meet with your needs and expectations in order to guarantee your full satisfaction and project specifications.
The Next Steps
This solution can be specifically studied and put in place on your existing Direct Fired Heater during a Revamp.

Heurtey Petrochem Solutions is still at the forefront of innovation, by developing, amongst others, the Electrical Tubular Heater, but also thinking to your next need, either for new equipment, or to answer to your revamp need : the Hybrid Electrical Tubular Heater. It is a way to reduce the emissions to the atmosphere and bring simultaneously a wider turndown to your equipment.