With more than 3,500 fired heaters engineered and supplied all over the world in more than 60 years, Heurtey Petrochem Solutions measures how important is the maintenance of its furnaces in the global offer to Clients:
For safety purposes,
For guaranteeing a smooth and reliable operation of the furnaces
Hence, a strong involvement in the spares management offer, using own dedicated teams together with the full support of the structure (Quality control, technical supporting Departments, Suppliers' approved network…)
Our dedicated team offers full services for supplying from gaskets or a single burner tip, up to a fully modularized radiant coil or convection section.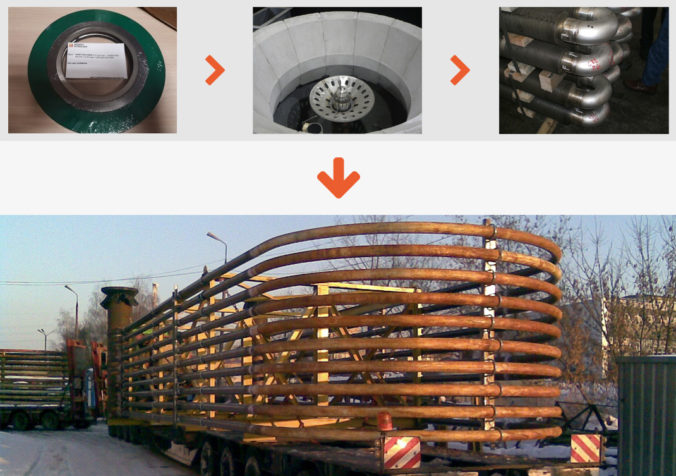 Partial list of spare parts regularly supplied by Heurtey Petrochem Solutions :
Pressure Parts including bare, finned or studded pipes, fittings, flanges…. supplied separately or in prefabricated hairpins,
Reformer Tubes, Manifolds & Pigtails
Cast supports & Tube Sheets,
Observation Doors
Burners Parts
Fans' spares,
Instruments (Thermocouples, thermowells, analysers, …)
Sootblowers spares,
Refractory & Insulation Materials,
Actuators.
Reasons to choose Heurtey Petrochem Solutions for Spare Parts supply :
In deep knowledge of your equipment
Issuance of the detailed Spare parts lists, or SPIR forms in the frame of the supply of furnaces, in order to allow an easy identification of the spare parts on site,
Heurtey always checks in its archives the definition of any requested material, in order to avoid any inadequate supply,
Capacity to check and offer adequate alternates, when original supplied goods are no longer available, for instance for instrumentation.
Support of Heurtey Petrochem Solutions
Quality is guaranteed for spare parts, with the same level of quality, than for main jobs, using:
Agreed by Heurtey Petrochem's Suppliers international network,
Involved Heurtey Petrochem's dedicated Quality Control Staff, who follows fabrication from ITP and up to Inspection Release notes, including shop visits, when needed,
Engineering Staff, when required for specific needs (issuance of drawings, calculation notes, when required….)
Spare parts technicians, fully oriented to the most adapted services
Critical Schedule
Specific regulations to be followed or implemented (P.E.D for instance)
Full services supply, up to logistics issues, transport to site, legalization of the shipping documents, upon request.