Heurtey Petrochem Solutions' team of experienced Engineers and Designers can develop the detailed calculations and drawings required to execute turnkey upgrades or retrofit projects with in-house modular units manufacturing. Emphasizing the importance of the turnaround, our Project Team works directly with the Operator to define execution risks and implement plans to ensure success of the Revamp Project. Our Global Procurement Group engages strategic sourcing to support this phase ensuring that materials are competitively supplied in accordance with the quality expectations of the operator. Heurtey Petrochem Solutions backs the supply by providing a process, thermal, emission or mechanical guarantee for the work we perform.
Heurtey Petrochem Solutions has successfully completed numerous Revamp Projects to supply the following:
Replacement Radiant & Convection Coil Bundles
Design and Supply of complete Radiant/Convection Modules
Stack replacement
SCR Design and Supply
Burner Upgrades
Furnace Re-Skins
Emergency Rebuilds
Whether it is an Upgrade, a planned Turnaround, or an Emergency Response, Heurtey Petrochem Solutions has the expertise and capabilities to Supply the required equipment.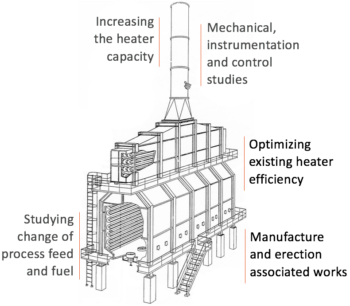 Heurtey Petrochem Solutions can carry out any revamping project, from a simple study to the replacement of large modules.